Healthcare Skills Training
Course Description
This micro-credential program addresses the crucial public need to provide linguistically- and culturally-appropriate care to Spanish speakers. This program is adaptable to various skill ranges, from learners with minimal formal training in Spanish to (aspiring) certified bilingual healthcare professionals and medical interpreters. Increase your awareness of Hispanic cultures related to healthcare, including understanding of cultural differences between Spanish and English-speaking regions.
Participants will be able to communicate patient medical information, use vocabulary related to body systems, illnesses, and treatments, discuss physical conditions, and give commands/instructions in an effective manner.
Modules 4–6 launched Spring 2023
Module 1: En el consultorio básico: The Medical Appointment
Learn and practice common greetings, saluatations, cultural courtesy and customs.
Obtain a basic medical history from the patient.
Recognize the difference between one-way and two-way communication (and use each according to your linguistic ability and comfort).
End the medical appointment with instructions and/or treatment plans.
Module 2: El cuerpo humano (The Human Body)
Recall major body parts commonly used in your healthcare setting.
Reference body parts in relation to pain and/or symptoms, illnesses.
Link body systems to body parts and processes.
Module 3: Las comidas y la nutrición
Identify and use (in speech and writing) common words and pharses related to food and nutrition.
Create a list of useful, frequently used words and phrases for your specific medical setting.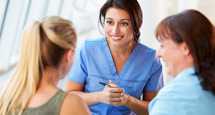 Learning Objectives
Topics are covered in Spanish and English:
Cultural factors
Risk factors
Disease prevention
Healthy lifestyles
Materials Provided
Each module of this course contains text, images, and vocabulary reflections intended to help the learner practice with the material.
Measure of Performance
Badge issued for completion of modules 1 through 3
Course Requirements
The program is designed for:
Individual learners and/or companies in medical and health related fields.
Pre-professionals/undergraduate students, graduate students and working healthcare professionals with a minimum of SP 102 or proven equivalent of language ability.