Course Description
The need for Pharmacy Technicians continues to grow with demand expected to increase substantially through 2024. Technicians work under the supervision of a registered pharmacist in hospitals, home infusion pharmacies, community pharmacies and other healthcare settings. This high demand for pharmacy technicians is the result of a multitude of factors including the constant availability of new drugs, the national shortage of registered pharmacists, the establishment of certified pharmacy technicians, and the aging population.
This comprehensive course will prepare learners to enter the pharmacy field and take the Pharmacy Technician Certification Board's PTCB exam. Content includes pharmacy terminology, reading and interpreting prescriptions, defining generic and brand names drugs, and much, much more. This program will prepare students to enter the pharmacy field and to pursue certification including the Pharmacy Technician Certification Board's PTCB exam. WIOA Approved Program. Exams fees are included in cost.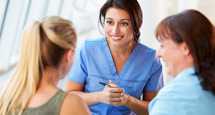 Learning Objectives
After completing this program, learners will be able to:
Define the difference between retail and hospital pharmacy settings
Demonstrate ethical conduct in all duties performed
Explain the laws that govern pharmacy, whether federal or state mandated
Interpret physician orders and prescriptions
Prepare and explain the administration of medications
Define medical and pharmaceutical terms and common abbreviations
Explain the concepts related to medical asepsis and surgical asepsis in the healthcare environment
Explain the pharmacology of medications in relation to the anatomy affected
Perform pharmaceutical calculations
Communicate effectively with patients and medical professionals
Recognize the importance confidentiality of all patient information
Process insurance billing and/or collect payments
Control inventory
Discuss important milestones and leaders in the history of pharmacy practice
Identify the requirements, behaviors, characteristics, and career options for the pharmacy technician
Describe how advances in technology and research impacts pharmacy practice
Describe the commonly used drug reference resources including the major reason for use and the organization
Describe the drugs in the current Top 200 Drug List including brand and generic name, drug classification, and uses
Materials Provided
All materials are included within the course.
Measure of Performance
After completing this program, learners will have the opportunity to take the leading national/industry-recognized certification exam(s) essential to entry-level employment in this fast-growing field. Exam fee included in cost.
Course Requirements
Learners who complete this program are eligible to participate in an optional volunteer externship opportunity with a local company/agency/organization whose work aligns with this area of study in order to gain valuable hands-on experience. As learners progress through their eLearning program, an Externship Coordinator will reach out to coordinate placement.