Course Description
While others approach leadership and innovation through the lens of a business strategy mindset only, this program approaches these topics from a more comprehensive perspective that includes business strategy, audience understanding, culture and system development, and organizational communication.
Rather than focusing on conceptual models, it focuses on practical, immediately implementable techniques and processes for building, facilitating and leading product and service and creating a culture of innovation. A cross-functional approach will also provide instruction in all of the critical strategies, skills, and perspectives that leaders need to successfully bridge the gap between aspirations and execution.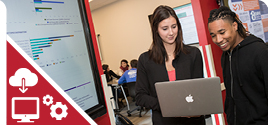 Learning Objectives
This course will examine what it takes to build and sustain an organizational culture focused on catalyzing innovation. What are key culture values and practices that different organizations stitch together to create a successful innovation ecosystem? We will look at the specific actions leaders can take and at systems and strategies you can use to foster innovation. Within the larger framework of culture, we will also explore tactical tools used to facilitate creativity and the design of novel solutions. We will look at:
Defining opportunities and solvable problems
Communication strategies for fostering innovation
Systems and strategies for ideation and brainstorming
Identifying, characterizing, and empathizing with your audience
Rapid prototyping processes, tools, and feedback
Materials Provided
Each module in this course contains text, videos, photos, reflection questions, and several assignments.
Measure of Performance
Micro-credential certification
Course Requirements
Leaders across a wide variety of disciplines, including professionals in:
Information technology
Media and communications
Current Ball State graduate students who wish to supplement their degree programs