Course Description
Our phlebotomy certification program includes three courses: Professionalism in Allied Health, Intro to Human Anatomy and Medical Terminology and Phlebotomy.
In medical and diagnostic laboratories, patient interaction is sometimes only with the phlebotomist, which allows a unique opportunity to positively impact the patient's experience. Because customer service is a priority in situations where direct patient care or other patient/client interaction occurs, we've included our Professionalism in Allied Health course.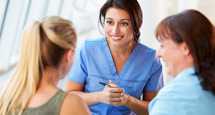 Learning Objectives
Throughout the Phlebotomy Technician program, students will learn to:
Gain knowledge of medical terminology, disease processes, anatomy and physiology
Become familiar with healthcare settings and the role of the phlebotomy technician
Understand the responsibilities of patient care and safety related to preparation and collection complications
Grasp the importance of customer service, communication skills and professionalism
Appreciate the role of HIPAA, OSHA, COLA, and CLIA-waived testing
Attainable Careers
Clinical Laboratory Technician
Laboratory Specimen Processor
Pathology Laboratory Technician
Endoscopy Technician
Emergency Room Technician
Blood Bank Technologist
Materials Provided
All materials are included within the course.
Measure of Performance
After completion of our Phlebotomy training program, you will have the knowledge to pass the Certified Phlebotomy Technician (CPT) exam, issued through the NHA (National Healthcareer Association), and begin your career in healthcare.
Course Requirements
High School Diploma or GED