Course Description
The H1-7100 Cloud Computing program is recommended for experienced IT professionals looking to expand in their role, gain more earning power, and demonstrate proficiency in cloud computing. As technology continues to evolve, and businesses explore new methods of doing things, it is critical that IT professionals keep pace with this evolution. Cloud computing in not new, but its evolution has accelerated in the last 10 years.
The CompTIA Cloud+ certification is a vendor neutral, performance-based certification that validates the skills and knowledge required of IT practitioners working in cloud computing environments. Competencies include cloud infrastructure and cloud models, virtualization, infrastructure management, security, and resource management.
Customer Service is a priority in situations where any interaction occurs, students will learn the fundamentals of Customer Service through a module aligned with Professional Association for Customer Engagement (PACE) standards. Students that successfully complete this course will be Customer Service Certified (CSC).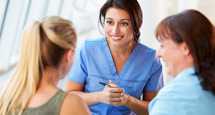 Learning Objectives
Throughout the Cloud Computing (Cloud+) program, students will learn the skills to:
Analyze system requirements to successfully execute workload migrations to the cloud
Determine proper allocation of cloud resources and apply necessary changes, based on performance data
Troubleshoot capacity, automation, connectivity and security issues related to cloud impleentations
Apply appropriate technologies and processes, including automation and orchestration, to ensure desired system performance
Attainable Careers
Cloud Integration Specialist, Cloud Developer, Cloud Security Expert, Network Engineer, Development Operations Engineer (DevOps)
Materials Provided
All materials are included within the course.
Measure of Performance
After completion of this program, students are expected to take and pass the national certification exam through the issuing authority for recognized certification in their field.
Course Requirements
High School Diploma or GED
2-3 yrs experience in IT networking
network storage
or data center administration (recommended)