July 24 through Septembr 15, 2023
Course Description
Using Pega Robot Studio, you will learn basic functionality, process flow, terminology, and core building blocks of the platform. Know how to integrate robotic automations with Windows and web applications in addition to using debugging tools to test the solution. Project management, deployment, interrogation, system integration, interrogation, and interaction framework are also taught in three overarching modules.
Brochure Link
PROJECT-BASED LEARNING: Exams, labs, and capstone project
LIVE LECTURE: Tuesday, Wednesday and Thursdays 4-5 PM EST
OFFICE HOURS: Mondays and Friday 4-5 PM EST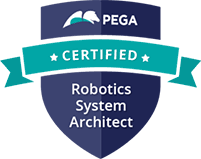 Learning Objectives
Upon completion, you will be ready to sit for the Pega Certified Robotics System Architect exam and shows:
The basic skills, knowledge, and tasks specific to automating Robotic solutions
Working knowledge of Automations, Debugging, Diagnostics, Interaction Framework, System Organzation, and Deployment
Materials Provided
All materials are included within the course.
Measure of Performance
Upon completion, you will be able to: Sit for the Pega Certified Robotics System Architect exam Show: The basic skills, knowledge, and tasks specific to automating Robotic solutions Working knowledge of: Automations Debugging and Diagnostics Interactions Framework System Organization Deployment
Course Requirements
Basic understanding of enterprise architecture, processes, case life.
Familiarity with business application development
Exposure to Pega CSA or Business Architecture